Moderators: bac, cullengirl, una, Nena
Has Caught Sight of Edward
Posts: 1000
Joined: Wed Jun 30, 2010 8:32 am
Location: The Netherlands
I'm happy because hubs has three weeks of vacation!
---
Finding a Nice Guy for Angela
Posts: 933
Joined: Sun Apr 19, 2009 5:02 pm
Location: Belgium
Contact:
I'm happy cuz I have my driver's liscence

"Being deeply loved by someone gives you strength, while loving someone deeply gives you courage."
---
Playing Thunderball
Posts: 1662
Joined: Tue Dec 30, 2008 7:50 pm
Location: Emmett's heart <3
I'm happy because I'm now four posts away from a new rank!
APPCShopper|Mafia~GabbyTagliano
AntoinetteFrost~JCA|TeamEdward&Esme|EDCCS|2ICofRJR
EDCBackhoeOperator|GarageCheerCpt&2IC|SBSLevel1Bodygaurd
---
Officially Bitten!
Posts: 1531
Joined: Fri Mar 12, 2010 9:52 am
Location: Wandering in the town, holding my arm tightly around the hold in my chest…
I'm happy without good reason... So that make me happy!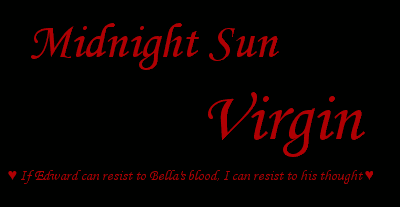 "When Kate met Garrett, she found something she'd never found [...]. She is currently attempting monogamy for the first time in her long life." S. M. The guide p. 157
---
Because I don't have to go back for jury duty until Monday.
"May the hinges of friendship never rust, nor the wings of love lose a feather"--Scottish blessing
---
Corralling the Cullens while Esme's Away
Posts: 2598
Joined: Thu Apr 09, 2009 3:54 pm
Location: Chatting with Esme and giving her parenting advice
Contact:
I'm happy because we got to hike in Glacier National Park. Serious awsomeness!
My Fanfiction: http://www.fanfiction.net/u/1797881/Openhome
---
Lusting for Blood
Posts: 1349
Joined: Thu Mar 11, 2010 7:32 pm
Location: - - » Somewhere dazed in a Damon-like haze.
Contact:
I'm happy because my Eclipse/Edward bookmark finally came in the mail today!
Chrissy
|
Team.
Edward(
T
)/Damon(
TVD
)/Eric(
TB
)/Adrian(
VA
)Peeta(
THG
) |
Music.Addict

- - * will you still love me tomorrow? - Amy Winehouse
---
Because I am completely done with jury duty--hopefully for about 10 years
"May the hinges of friendship never rust, nor the wings of love lose a feather"--Scottish blessing
---
So Jealous of Emily
Posts: 4175
Joined: Wed Aug 20, 2008 8:05 pm
Location: Land of Snow and Mormons
I'm happy cuz I'm on Varsity (finally!) and we're gunna pwn this year.
---
Tantalizing Men With Rosalie
Posts: 2362
Joined: Sat Sep 19, 2009 5:01 am
Location: Mansfield, OH, USA
Audi, Twilight, Cher, Pink Floyd, symphonic/progressive rock, KStew, RP, Bio-Booster Armor Guyver-what's not to like
Team Renesmee, Team Bella, Team Edward.
Fan fic stories:
http://www.fanfiction.net/u/2192109/
---