Moderators: Bronze Haired Girl, una
Buying a Better Raincoat
Posts: 71
Joined: Sat Sep 06, 2008 2:00 pm
Hell and High Water by Black Stone Cherry totaly remembers me of Jacob in New Moon
---
Wandering Through Town
Posts: 25
Joined: Mon Aug 25, 2008 8:42 am
Location: Hoping Cookie Monster does not find Edward's jacket in the closet...
Hoobastank- The Reason
Avril Lavigne- When You're Gone
"I won't take back my word. That's my way of the ninja."- Uzumaki Naruto.

It just kills me that we here in the little Caribbean are not able to get our grubby little paws on any of that cool Twilight stuff....Hark! Shall I survive?...
---
Teaching Eric Social Graces
Posts: 238
Joined: Sat Aug 16, 2008 6:36 pm
Location: Forks Washington
Contact:
omgbellas lullaby duz lol i wonder y that is
---
I'm a Buble, Sinatra, crooner kinda guy... So, I've got a few of those on my mind with Twilight.

Witchcraft - Sinatra (The Cullens overall)

Home - Buble (Edward during New Moon)

Now That Your Gone - Bebo Norman
Time Takes its Toll on us - Bebo Norman (Both Bella from New Moon)
I'd love to have some feedback on my poems and rants. Check the blog on
http://www.myspace.com/akaitachi
if you have the time! I want some advice and critique, don't worry about offending me.
---
Fireflight (artist) -- Forever

This is a great song. The band has a female lead, and has a sound a lot like Paramore. Just let me know what you all think.
---
Fishing with Charlie
Posts: 848
Joined: Wed Oct 01, 2008 9:05 pm
Location: Being the village idiot
You know, when I first got Twilight I read and re-read it several times. This took me a couple of days and the whole time my sister was in the other room listening to the areas popular hip-hop/current music station. They have the same dozen or so on a loop; so that's ALL I heard. So everytime I hear:
Katy Perry's "I Kissed a Girl"
Metro Station's "Shake It"
Jason Mraz's "I'm Yours"
Colby O'Donis and Akons "What you got"
Coldplay's "Viva la Vida"
Estelle's "American Boy"
a specific TW scene pops into my head. Despite the fact that they have almost no correlation to the book. Personally, this is not music I really typically listen to, but I was so absorbed by TW I never told my sister to turn it down. I'm sure this could go into the books as some kind of cranial experiment. It's actually quite bizzare.
---
Settled in Forks
Posts: 23
Joined: Sat Jan 10, 2009 10:55 am
Location: USA
I agree with chach that bella's lullably reminds me of twilight.
for new moon, if i only had the heart by the maine. it reminds me of how edward left and he wanted bella to forget him.
---
Teaching Eric Social Graces
Posts: 238
Joined: Sat Aug 16, 2008 6:36 pm
Location: Forks Washington
Contact:
inseperable by the jobros
-well be running so fast we can fly
---
Banging Out Dents with Tyler
Posts: 300
Joined: Thu Aug 21, 2008 11:14 am
Location: At College... unlike Bella, I had no 'Plan A'!
I feel that the song "Understanding" by Evanescence is a PERFECT song for Breaking Dawn (the first 2 sections of it, at least!) I LOVE this song (My name on here is actually a line from the song!).
Here is a link to the lyrics.
"Understanding" by Evanescence
*NOTE: The parts in quotes are actually audio clips from movies that are in the song. The non-quoted parts are the actual singing.
When you read them, you just have to kind of think of each section of the song from a different character's POV. In my mind, the movie quotes at the beginning and end relate Jacob (the end one would be Bella talking
to
Jacob), the first verse sounds like Bella's POV, the second is Edward's POV, and the choruses could be Edward or Bella or even Jacob, depending on how you look at it. It's such an emotional song and I love it <3
Sorry that post was so long! I adore this song and have found a whole new meaning to it
Sig by me, icon by wwonder at LJ
~
9/11/07 & 11/15/08 <3
~
Official "Innocent Bystander" of the Robnapping Crew!
---
Completely Dazzled!
Posts: 1440
Joined: Sun Aug 24, 2008 5:43 am
Location: Australia, of course
OK my sister and I found this song AGES ago..And we think it perfectly describes Bella and Edward's relationship:
it's called:
Close 2 U
by DJ Bounce..
It's kinda techno stuff but the lyrics are PERFECT!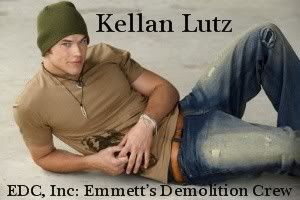 ::Elise:: Backhoe Operator for EDC, Inc~EDC's Cheer Squad Captain!
I'm on the List~The names Mooner
---