Moderators: Bronze Haired Girl, una
Jump Starting Bella's Truck
Posts: 132
Joined: Sat Dec 27, 2008 1:21 pm
well she inspired me to read the twlight saga and has recently inspired me to start writing a book of my own someday..
Touched By Cold Hands
Posts: 1271
Joined: Thu Dec 04, 2008 11:48 pm
Location: LONDON. :D
Contact:
Just to like, embrace my wild imagination! I feel like writing, and painting and documenting EVERYTHING vivid I think of!
E<3B
Settled in Forks
Posts: 11
Joined: Fri Aug 22, 2008 8:47 pm
Location: at school most of the time...
Contact:
She inspired me to write a vampire story of my own. Only this time, it's about a vampire (who's male of course) who wanders into a city filled with Vampire Hunters called Midnight's Angels. He falls in love with one of them (even though he doesn't know it) and things happen that cause them to realize that maybe their both on the wrong side.
It's only nine (almost eleven) chapters long...I haven't really written it since like November...I'm still trying to figure out how to get the characters going towards where I want them to go. They're not being very helpful.

She also inspired me to use the vampire story and turn it into Twilight. My fanfic Meteor Across the Sky. It only has a prologue so far because the first chapters are really hard to write.

I really love the book series, and it made me realize that I had two Edwards. But I lost them before I could figure it out.
This could be taken the wrong way...
"It won't be so hard again," Edward Cullen."Was it hard for you?"
"No, not for me..." Bella Swan
Robert Pattinson is "Never Think"ing of me which makes me sad...*sigh*

Buying a Better Raincoat
Posts: 51
Joined: Tue Dec 16, 2008 8:48 pm
Location: Out of my mind. Be back in 5 min. LOL
Stephenie Meyer has inspired me in so many ways. The biggest way is that she' created a story that can compete with Harry Potter to me (I'm a huge HP lover!). I mean I honestly can't choose between the two if my life depended on it (though I don't think it will ever get that serious
). Another way she's inspired me is that she's made me realize that I love vampires!Now I haven't found a vampire story that I can say I hated (though Edward will always be my favorite hottie vamp and Twi-vamps are way cooler). She's gotten me even more into reading than I already was, and she's gotten me writting. Some of the friends I've made is because of the Twilight saga. She has givien me one of my favorite parts of my adolesence as J.K Rowling has given my favorite parts of my childhood. In short... Stephenie Meyer is an
AWESOME
author!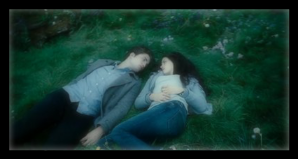 "I
see
you
lying
next
to
me
with
words
I
thought
I'd
never
speak
;
awake
and
unafraid
asleep
or
dead
"
-Famous
Last
Words"
My
Chemical
Romance
Buying a Better Raincoat
Posts: 68
Joined: Wed Dec 31, 2008 9:08 am
Location: Bristol, England
I'd read plenty of other vampire novels before, but not one of them had me feeling like i had to finish it, like i couldn't do anything else but finish the story. When i wasn't reading about Bella and Edward, i was thinking about them. Stephanie has inspired me to work like that. I'm training to be a teacher, and i want my lessons to be memorable, just like her books.

The Twilight saga has made me think about my relationship and where i want it to be heading in the future. It also made me realise that in his own way, i have found my Edward Cullen.

I know loads of people have said this, but i've started reading again, as i've not had much time to since starting uni, which is a huge shame because reading is such a huge part of my life. Writing as well, just when an idea hits me, quickly finding my netbook or my notebook and pen and jotting it down.
Where is the horse and the rider? Where is the horn that was blowing? They have passed like rain on the mountain, like wind in the meadow. The days have gone down in the West behind the hills into shadow. How did it come to this?
Wandering Through Town
Posts: 38
Joined: Sun Dec 28, 2008 9:44 pm
nirtia wrote:Indeed her characters have inspired me. Check out this poem I wrote as a response to TWILIGHT


DANCE OF GRACE

Nirtia
For Bella and Edward

What is it that I can offer; to the treasure I behold
That would melt away the doubts, warm you from my cold.

Just wrap me in your arms; your lips gently pressing mine
And your liquid golden eyes would stop the hands of time

And in that endless moment LOVE, not a single care
I would stay with you; hold you; my fingers in your hair

Say it will not end; this embrace; this closeness that I feel
Protected, adored, secure, I scarce believe it real

How I long to be your dream; But you hold that secret deep
I wonder, DEAR ONE, Am I the man from in your sleep

No you have become much more than my vision in the night
You are my true north which shines the most glorious light

You my precious angel are the beating of my silent heart
Which dances to your rhythm; a cadence set far apart

Then we shall dance my gallant knight of porcelain snow
And twirl to the music that only we two shall know

This is my paradise; my eternity, my existence here with you
My cheek against your cheek; every movement something new.

This is my heaven; my only thought; right here in your embrace
My head against your chest; We dance a dance of endless grace.



What do you think? AM I okay at this poetry thing?
Thanks Stephenie for inspiring me to be creative
Your poem is beautiful! I love it!
Team Switzerland

Created by Enough4 from Vesperarium
Wandering Through Town
Posts: 38
Joined: Sun Dec 28, 2008 9:44 pm
I know that many people have been inspired to read and write, but Stephenie has made a different impact on me. I really love the fact that before she was was a writer she was a full time mom, well she still is. But, she was a first and foremost a mom and she didn't really have any aspirations to be a writer. Stephenie had a dream and she followed it. She really showed me that it's never to late to chase your dreams and that anything is possible. You have the power to be who you want to be, to do what you want to do. I really love reading her story about how it all began. Sometimes I wish that I can do something but I always think, "Well, it's too late for me to start up on that" or other negative things. Then I think about Stephenie and I remember that nothing is impossible, but only you can chase your dreams and make it happen. So Stephenie, if you ever read this, I just want you to know that you inspired me to follow my dreams no matter how far fetched they may seem and that NOTHING is impossible.
Team Switzerland

Created by Enough4 from Vesperarium
Hey Stephenie
I'm a really big fan of your books and I'd just like to say it would be really nice if you kept goin with Edwards version of Twilight and maybe even write down the whole series of Jacob Blacks story because I reckon they were really interesting and you shouldn't stop writing them just because some silly person (no offence) illegally posted the first part of
Midnight Sun
. The Twilight Saga was so good i can't even explain it and having Edwards version would really blow me away. Please share your intriguing stories with the rest of your Twilight Fans.
Also I'd just like to say i'm really looking forward to reading your bokk The Host
Thank you for hearing me out if you hear this and i hope your agents or whatever let you read this
Jess
P.S. You don't know how much I have in common with Bella Swan its weird
Stephenie inspired me to not only start reading again, but also to start writing.
Before high school, I read and wrote a lot: I had so much spare time on my hands. But recently, I've been so busy, that work has kind of taken over.
I read twilight & new moon in about two weeks, I loved the books so much. I swear I've never been so into a series of books before!
And now I'm trying to put time aside to continue writing: I love writing, but half the time I'm totally stuck for ideas.
But reading Stephenie's personal comments (on her site) on how she started writing Twilight, gave me a fresh perspective, I guess.
Before I always thought that I had no new ideas to work on and I didn't have time, now I'm just going with the flow.
Stephenie's characters are so amazing that they have inspired my best friend and I to embark on a new writing journey. It has been over 12 years since we have written a story together....it is an exciting time!
We love you Stephenie!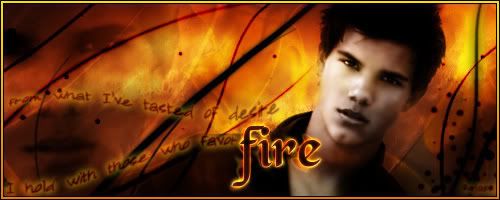 Banner and Avator by the talented ForJazz