Settled in Forks
Posts: 3
Joined: Fri Aug 22, 2008 4:50 pm
after bella's "labor" edward stabs bella with a seringe sp?..

how did he get his venom into the seringe??
---
I don't think you posted this question on the right board.

He probably just spit it out from his mouth.
His arms wrapped around me, holding me against him, summer and winter.
It felt like every nerve ending in my body was a live wire.
---
Settled in Forks
Posts: 3
Joined: Fri Aug 22, 2008 4:50 pm
i knoww.. it was my first one and i didnt know what i was dooing..

but he couldnt just spit it out cus all those times hes madeout with bella...
---
Welcome all! Let's all sit back and enjoy the new and beautiful TL!!! If you have any questions or just want to chit chat feel free to PM me-I'm friendly!

-Dark
My twinnie and my fav twi guy=meteor
Randomness Reggie! BACK in...dark?
Emmett's Demolition Crew:Trainee
Team Edmartt!
<<for the clueless, edward+emmett
---
Settled in Forks
Posts: 6
Joined: Thu Aug 21, 2008 8:51 am
i am new too.. i too asked a question here lol... but i mean... where else can you put them sometimes lol

well maybe he just worked it up and sucked it out? i dont think the venom is always present. i think it can just come when he needs it... i think...

**edit** actually... hmmm.. i take that back. Maybe it has to enter the blood stream to be harmful? if thats the case.. why didnt it harm her when he was sucking james' venom out of her? im confused now... lol im going in circles.
---
Lusting for Blood
Posts: 1387
Joined: Sat Aug 16, 2008 6:44 pm
Location: There...plotting Lynz's demise :D
First if all...wrong thread.
Second, it was most likely his blood that was in syringe. Carlisle could have taken it easily. It's just like drawing blood. You need to visit other forums if you have more questions. Trust me, look hard enough and you will find your answers.

Squee! Thank you, Nena!
---
Welcome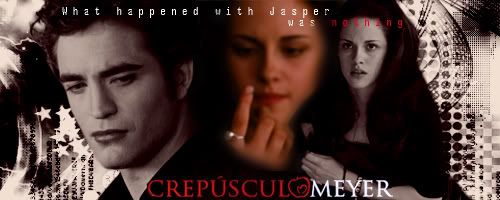 ---
Lusting for Blood
Posts: 1382
Joined: Wed Aug 20, 2008 9:34 pm
Location: Running with vampires
Contact:
This doens't belong here.
Please, I've been waiting for this thread to drop off the page. I realize I'm kicking it up by posting, but please don't post after this and let it drift off the page. If you want answers to questions pertaining to the books, head on over to the
Quench Your Thirst
forums.
Thank you.
(Didn't mean to go into MeanMode, but this really isn't the place for it, and it seems like ignoring isn't working.)
She used to be human, and then it changed. How did she die? Why did she meet James? One couple's unlikely love story is another person's untimely tragedy. Ashes
Ren's newest story!
---
Wrestling With Emmett
Posts: 2528
Joined: Thu Aug 21, 2008 12:14 am
Location: Shopping with Alice ~ Wilmington, NC
Contact:
Welcome to the Lex! See you around the forums, if you wanna chat send me a message!
~Elizabeth (formerly known as RealGirlsLikeFastCars)
Team Edward:
Because...
pianists are good with their fingers
some of the hottest kisses are closed mouth
once you go vamp you never go back
---
Playing the Stockmarket with Alice
Posts: 2459
Joined: Thu Aug 21, 2008 6:53 pm
Location: Fighting all of those rebel Cylons...
Hi! Welcome to the Lexicon, I'm Venecettia.
---