Moderators: bac, cullengirl, una
Buying a Better Raincoat
Posts: 67
Joined: Thu Dec 11, 2008 1:56 pm
Location: S. Wales, UK
Contact:
Anastasia
The Nutcracker
Lion, Witch and the Wardrobe (cartoon version)
"This hostage stuff is fun."
---
Touched By Cold Hands
Posts: 1249
Joined: Wed Oct 01, 2008 3:52 pm
Location: A Hidden corner of the BAA
O i loved Anastacia and the Little Mermaid best animated films ever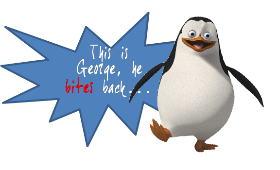 *Does crazy dance with vampire penguin*
I'm staying!!!
I'm on The List
Jess & Rach - Valek's girls
---
Touched By Cold Hands
Posts: 1271
Joined: Thu Dec 04, 2008 11:48 pm
Location: LONDON. :D
Contact:
Anastasia
Beauty and the Beast
Alice in Wonderland
Those were my absolute
favorite
movies, everrrrrrr.
E<3B
---
My all time favorite movie... All Dogs Go To Heaven.

This flick continues to makes me tear up when watching it. Not to mention, my longing to own a German Shepherd named Charlie.
---
Jump Starting Bella's Truck
Posts: 127
Joined: Fri Oct 31, 2008 12:10 pm
Location: frolicing through the unicorn forest that is RPattz's hair
i always loved toy story, and the little mermaid. still love them both actually
and i also always thought cinderella was great lol
i used to bawl my eyes out like a baby whenever i watched the lion king though..

Team

Edward

,

Emmett

,

Alice

,

Jacob

,

Garrett

,

Jasper

,

Seth

,

Bella

,

Charlie

, and

Renesmee

<3
"And by the way I adore you..in frightening, dangerous ways" - Edward Cullen, Midnight Sun
---
Joining the Hunt for Enemies
Posts: 6978
Joined: Wed Aug 20, 2008 8:10 pm
Location: preparing for next winter
Contact:
I still cry at Lion King!! Every time Simba runs down to find his dad and wants him to get up
Team Edward&Esme~SBS Assistant 2 the Cobosses~APPC
St Cullens Head of Neurology~Tetrarch
Need something to read? Try
http://www.jennacooper.com
---
Banging Out Dents with Tyler
Posts: 307
Joined: Mon Sep 29, 2008 3:51 pm
Location: In My Happy Place With Jacob
Let's see...

-Pocahontas
-Mulan
-Cinderella
-Little Mermaid
-Snow White
-Sleeping Beauty
-Beauty and the Beast
-Bambi
-Anastastia
-101 Dalmations
-Peter Pan
-Aladian
-Etc, etc, etc...
"Did you know, you're sort of beautiful?"
"You hit your head pretty hard, didn't you?"
---
My all time favorite was
The Land Before Time
.. I loved (and still love) it SOO much. Still cry at the scene where Littlefoot's mum died.
Ofcourse all the classic Disney's..but i have to admit that when i was little i was afraid to watch Snow White because of the witch
hahaaa I always fast forward that part without looking at the screen!..
Great childhood memories...
Have I Found You, Flightless Bird?
---
Officially Bitten!
Posts: 1575
Joined: Thu Aug 21, 2008 4:14 pm
Location: Gushing over my favorite couple while obsessing over various other fandoms
I'm sure I won't be able to remember them all in one post but I can try:

The Brave Little Toaster
Scooby Doo and the Reluctant Werewolf
Scooby Doo and the Ghoul School
The Fox and the Hound
Balto
101 Dalmatians
The Lion King
All Dogs go to Heaven
Snow White
Lady and the Tramp
The Land Before Time
Cinderella
Oliver and Company
The Aristrocats
Homeward Bound (sp?)
The Rescuers

Darn, I can't remember anymore than that. I'd have to say I liked all the Disney movies except for a select few (that includes the Little Mermaid. Sorry, girls, Ariel irritates me to death). But there were other ones, one aside form Disney. It's been so long I can't recall them.....
"Got it memorized?"
Visit me on Gaia Online if you would like:
http://www.gaiaonline.com/profiles/Mina_May
---
Hiding Lauren's Hair Dye
Posts: 450
Joined: Sun Dec 28, 2008 9:27 am
Location: Ecosse
Who Framed Roger Rabbit?
The Little Mermaid (first film I ever saw, according to my dad
)
Anastasia
Mary Poppins
Peter and the Dragon
Chitty Chitty Bang Bang
The Jungle Book
The Little Princess
The Brave Little Toaster
Winnie the Pooh
Lady and the Tramp
Call That a Comeback?
YOU ME AT SIX
---